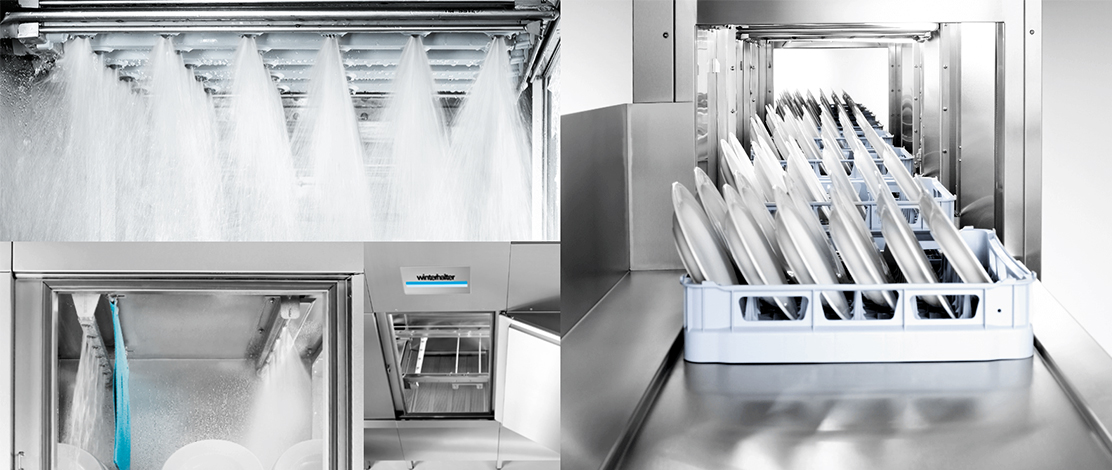 MTR PRODUCT BENEFITS
HYGIENE SAFETY
The MTR is designed for the highest hygiene standards. With your machine architecture. Your hygiene and cleaning concept. Your special programmes and equipment details. It therefore meets all the requirements of the DIN standard.

USER-FRIENDLY

Touch screen with self-explanatory pictograms. Intuitive programme selection. Doors that can be opened 180°. Open the unit effortlessly with just one finger. The well conceived details make operation of the MTR simple, safe and convenient.
PERFECT WASH RESULTS
The MTR warewashing system is extremely efficient. It ensures cleanliness and hygiene of the highest standard. At all times. Even with large loads of dishes.
ECONOMICAL

With integrated economy functions: thanks to innovative technology in the rinse zone, water consumption is reduced to a minimum in the MTR. This also significantly reduces the consumption of energy and washing chemicals. Overall, that means lower operating costs. And greater cost-efficiency.
MTF HighSpeed
Model >

MTF 3-3400 MMM

MTF 3-3900 MLM

MTF 3-4600 LLM

MTF 4-4600 MMMM

MTF 4-5200 MLMM

MTF 4-5800 LLMM

MTF 4-6400 LLLM

MTF 5-8000 LLLLM




Theoretical capacity (65mm conveyor belt)




















– Intensive

1500

1700

2000

2000

2200

2500

2700

3600

Plates/ h

– Standard

2200

2600

3000

3000

3400

3800

4100

5400

Plates/ h

– Rapid

3400

3900

4600

4600

5200

5800

6400

8000

Plates/ h

Machine length (without air knife drying, drying,




loading and unloading zone)

2100

2450

2800

2800

3150

3500

3850

4900

mm

Total water tank capacity

240

240

240

325

325

325

325

410

l

Average rinse water volume with triple rinse (optional) *

240

240

260

260

270

270

280

310

l/h
MTL HighSpeed
| | | | | | | | | | |
| --- | --- | --- | --- | --- | --- | --- | --- | --- | --- |
| Model > | MTR 2-210 MM | MTR 2-240 SMM | MTR 2-240 LM | MTR 3-250 MMM | MTR 3-270 MLM | MTR 3-340 LLM | MTR 4-340 MMMM | MTR 4-380 MLMM | |
| Theoretical capacity | | | | | | | | | |
| – Intensive | 85 | 110 | 110 | 100 | 115 | 135 | 135 | 150 | Racks/ h |
| – Standard | 130 | 165 | 165 | 150 | 175 | 205 | 205 | 225 | Racks/ h |
| – Rapid | 210 | 240 | 240 | 250 | 270 | 340 | 340 | 380 | Racks/ h |
| Machine length (without splash box, blowing-out and drying zone and table system) | 1400 | 1750 | 1750 | 2100 | 2450 | 2800 | 2800 | 3150 | mm |
| Total water tank capacity | 155 | 155 | 155 | 240 | 240 | 240 | 325 | 325 | l |
| Average rinse water volume with triple rinse (optional) * | 220 | 220 | 220 | 220 | 220 | 240 | 240 | 250 | l/h |